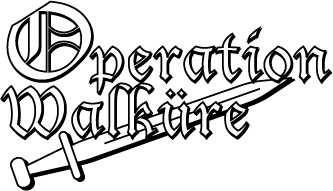 Command & Strategy is proud to present:

Operation Walküre

The Plot Against Hitler
Operation Walküre is a solitaire game about the 1944 plot to assassinate Adolf Hitler. The goal of the conspirators was to kill Hitler in his East Prussian headquarters, the "Die Wolfsschanze" (the wolf's lair) and then seize power in Germany.

The game recreates the difficulties in getting close to Hitler while avoiding Hitler's suspicions and arrested by the Gestapo.

Designed by Roberto Morraglia and developed and illustrated by some Swedish guys no one has ever heard of, Operation Walküre is published as part of Command & Strategy #6.




THIS IS SAMPLE ART FROM OUR TEST LAB IN TRANSYLVANIA.
THE FINAL PRODUCT MIGHT JUST NOT LOOK QUITE LIKE THIS.
Back to UGG Main Page - Order Page
© 2007 Udo Grebe Gamedesign - All rights reserved.