Command & Strategy will be discontinued. It will be replaced by Vae Victis International
Pearl Harbor

The last Installment of Pearl Harbor will be published in Vae Victis International #1, deluxe.
Do not miss.
.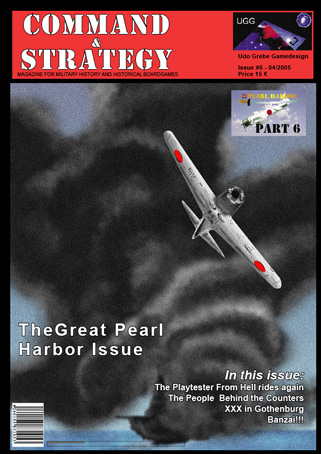 In comming issues

Games you can look forward to in coming issues.

• We are looking at several of Paul Rohrbaughs designs for future use. Two games on the 1973 battles for the Golan Heights looks very interesting.

• "Lightning Strikes" - a game on Napoleon's Montenotte campaign. By Anders Fager & Elias Nordling.

• "Koba - Revolutions" part three of the Koba Saga.

• An Assyrian Wars theme issue with more scenarios and variants.
Back to UGG Main Page - Command & Strategy Page - Order Page
© 2007 Udo Grebe Gamedesign - All rights reserved.